In this article, you will learn how to change a ggplot legend order.
GGPlot2 Essentials for Great Data Visualization in R
Prerequisites
Load the ggplot2 package and set the theme function theme_classic() as the default theme:
library(ggplot2)
theme_set(
  theme_classic() 
  )
Basic plots
p <- ggplot(iris, aes(x = Species, y = Sepal.Length)) +
  geom_boxplot(aes(color = Species)) +
  scale_color_manual(values = c("#E7B800", "#2E9FDF", "#FC4E07"))
p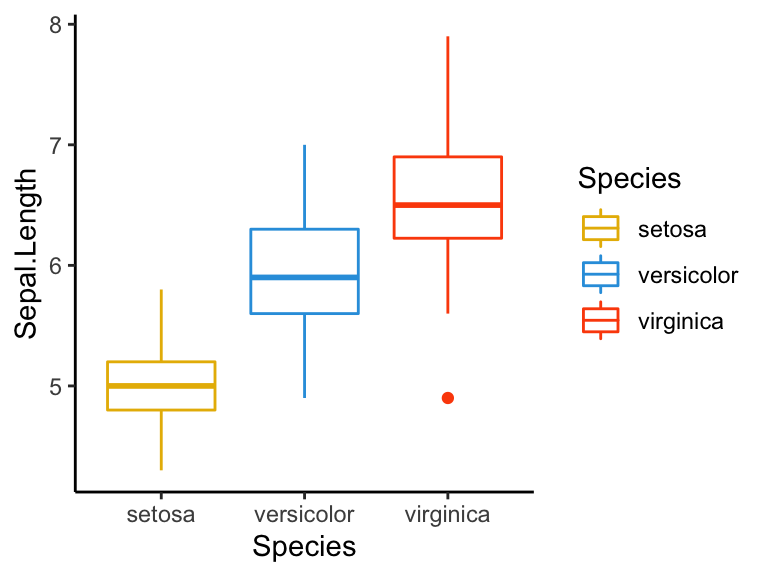 Reorder legend labels
Changing the order of legend labels can be achieved by reordering the factor levels of the Species variable mapped to the color aesthetic.
Reorder the factor levels:
# Default order
levels(iris$Species)
## [1] "setosa"     "versicolor" "virginica"
# Reverse the order as follow
iris$Species <- factor(iris$Species, levels = rev(levels(iris$Species)))
# Or specify the factor levels in the order you want
iris$Species <- factor(iris$Species, levels = c("virginica", "versicolor", "setosa"))
Create the plot:
ggplot(iris, aes(x = Species, y = Sepal.Length)) +
  geom_boxplot(aes(color = Species)) +
  scale_color_manual(values = c("#E7B800", "#2E9FDF", "#FC4E07"))
Version:

Français