Course description
The t-test can be defined as a statistical test used to compare two means. This guide provide multiple tutorials describing the different types of t-test, including:
one-sample t-tests. Compares one-sample mean to a know standard mean.
independent samples t-tests: Student's t-test and Welch's t-test. Compares two independent groups
paired samples t-test. Compares two related samples.
You will learn the t-test formula and how to:
Compute the different t-tests in R
Check t-test assumptions
Calculate and report t-test effect size using Cohen's d.
Contents:
Practical Statistics in R II - Comparing Groups: Numerical Variables
Prerequisites
Make sure you have installed the following R packages:
tidyverse for data manipulation and visualization
ggpubr for creating easily publication ready plots
rstatix provides pipe-friendly R functions for easy statistical analyses.
datarium: contains required data sets for this chapter.
Start by loading the following required packages:
library(tidyverse)
library(ggpubr)
library(rstatix)
Examples of R codes
Comparing two independent groups:
# Data preparation
data("genderweight", package = "datarium")
head(genderweight, 3)
## # A tibble: 3 x 3
##   id    group weight
##   <fct> <fct>  <dbl>
## 1 1     F       61.6
## 2 2     F       64.6
## 3 3     F       66.2
# Statistical test
stat.test <- genderweight %>% 
  t_test(weight ~ group) %>%
  add_significance()
stat.test
## # A tibble: 1 x 9
##   .y.    group1 group2    n1    n2 statistic    df        p p.signif
##   <chr>  <chr>  <chr>  <int> <int>     <dbl> <dbl>    <dbl> <chr>   
## 1 weight F      M         20    20     -20.8  26.9 4.30e-18 ****
# Visualization: 
# Create a box-plot
bxp <- ggboxplot(
  genderweight, x = "group", y = "weight", 
  ylab = "Weight", xlab = "Groups", add = "jitter"
  )
# Add p-value and significance levels
stat.test <- stat.test %>% add_xy_position(x = "group")
bxp + 
  stat_pvalue_manual(stat.test, tip.length = 0) +
  labs(subtitle = get_test_label(stat.test, detailed = TRUE))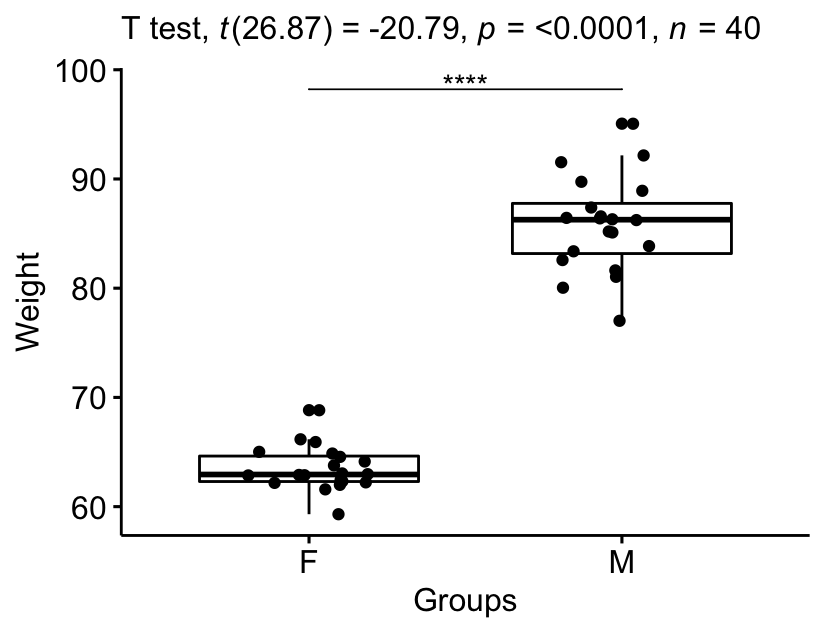 Version:

Français